English is not my native language and if you encounter spelling errors on this page please send comments to Velociware Admin.

About Perfect Process Insight
The Perfect Process Insight will help you keep adware/spyware and Backdoors on a short lease.

Perfect Process Insight can detect spyware/adware worms and other annoying pests. On top of this Perfect Process Insight has details on many known programs, dll,ocx and services that can help you in your search for potential dangers to your computer.
Network scan
Connection problems :

Always make sure that the host/computer your are trying to connect to has WMI installed and ofcourse is present on your network.

Make sure you are using a user that has sufficient rights on the host. Best choice is to use a Administartor account or a user that is member of administrators group.

Make sure the host accepts remote procedure calls.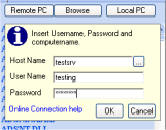 In host name box, both IP's (ex. 10.0.0.1) and computer netbios names are acceptable.
In the User Name Box you can use following syntax Domain\username or just username.

If you are logged on the loacl computer with a domain/Workgroup administrator account you can leave the User name and Password box empty.
Help is developed By Nino Arndt, Velociware. (c) 2005.