Game Type :
Tycoon Business manager
Release date :
August 2008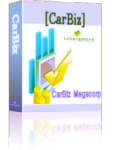 Price : € 9.99
( Info on buying
)

The Carbiz Game is a Business Simulator.
CarBiz simulates the car industry from 1920 to 2020.
You start a car manufactuering company as early as 1920.
In CarBiz you have highly custmizeable car designs. Look at the picture to the right. Look at this Video (6mb)
Your company can compete in sports Racing.
You can buy stocks, Play scenarios and much more.
Your goal is to become the most successfull car manufacture of the world.
Features :
Semi 3D FreeMode Designing cars.
Compete with 8 AI companys
Design 5 different car classes A-E....
Setup sports division and compete in Formula race classes
Senarios
Stockmarket. Buy and sell stocks and buy out your compertition.
Play from 1920 to 2020. Set startup date between 1920-1960
and much more...

If you wish to test the game download the playable demo
We will email you your username and registration code as soon as we receive payment
Problems and issues after paying for Carbiz go here